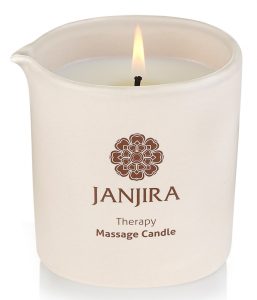 Therapy Massage Candle
Therapy Massage Candle | JANJIRA
30.00
£30.00

This luxurious Massage Candle helps you unwind and soothes your mind, body & soul. The rich aroma of the natural fragrances rejuvenate the senses while the warm oil is absorbed efficiently by skin, making it feel nourished and supple. Beeswax and Coconut oil protect and soften the skin.
Benefits:
– Softens and smoothes skin
– Maintains skins moisture balance
– Grapefruit, Tangerine and Rhubarb scent
– Can be used as a massage oil, body oil, moisturiser or facial oil
– Creates a beautiful, relaxing atmosphere
Key Ingredients:
Soybean Oil – Provides essential fatty acids, proteins and vitamin E that help to promote and restore the skin's moisture balance.
Coconut Oil – Helps to restore the skins moisture.
Reviews:
"The oil massages in with a lovely warmth to it" – Pixiwoo, Blogger/YouTube personalities
"We were delighted by this wonder product" – Glamour
"The scent is amazing" – Stylenest,
Blogger
"Especially good for soothing dry hands and relaxing tired feet" – The Grooming Guru, Blogger
200g
Directions
Light the Therapy Massage Candle to melt the wax into warm luxurious massage oil. Blow out the candle and pour the melted oil in your palm. The warm oil can be used as a massage oil or on cuticles, elbows, feet-dry skin anywhere.
Ingredients
Paraben free, SLS free and no artificial colouring.
Hydrogenated Soybean Oil, Cocos Nucifera (Coconut) Oil, Parfum (Natural Fragrance), Cera Alba (Beeswax), Citral, Geraniol, Hexyl Cinnamal, Limonene, Linalool