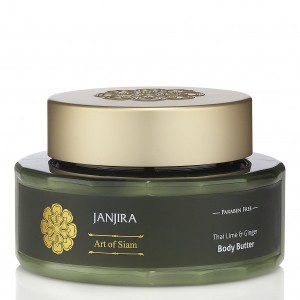 Thai Lime & Ginger Body Butter
26.00
£26.00

Enriched with Ginger and Citrus Extracts this Body Butter helps replenish, moisturise and gives the skin natural nutrients.
Benefits:
– Long-lasting hydration
– Absorbs quickly
– Restores skins elasticity
– Improves skins resilience, smoothness and radiance
– Helps heal and soothe skin
– Anti-ageing effects
Key Ingredients:
Niacinamide – Vitamin B3; useful as a skin moisturiser and therefore helps maintain the skin's moisture balance. Important for maintaining healthy skin and proper blood circulation. It can also help acne problems.
Avocado Oil – Organic avocado oil provides several vitamins e.g. , A, B, D, E and amino acids that help heal and soothe the skin.
Shea Butter – Shea butter is a natural moisturiser that maintains the skin's structure and keeps it soft.
Reviews:
"Ive been slathering on this new Janjira body butter. It smells really exotic leaves my skin so lovely and soft" – Michelle Keegan
"I am obsessed with moisturizing my skin so I loved how creamy this was without being too thick. The citrusy scent stayed on my skin so well that I actually got a whiff of it as I went to bed. My skin stayed soft and smooth all day and this is definitely going to be added to become a staple in my daily routine" – Cosmopolitan
"Hydrated the skin – especially dry areas such as knees and elbows" – Beauteens, Blogger
250ml 8.4 US Fl.Oz
Directions
Gently massage onto skin over the entire body. Use daily and reapply as required.
Ingredients
Paraben free, SLS free and no artificial colouring.
Aqua (Water), Cetyl Alcohol, Glycerin, Glyceryl Stearate SE, C12-15 Alkyl Benzoate, Dicaprylyl Carbonate, Polysorbate 60, Butyrospermum Parkii (Shea Butter), Cocos Nucifera (Coconut) Oil, Stearic Acid, Phenoxyethanol, Parfum (Fragrance), Niacinamide, Carbomer, Maltodextrin, Chlorphenesin, Persea Gratissima (Avocado) Oil, Tocopheryl Acetate, Caffeine, Carnitine, Microcrystalline Cellulose, Paullinia Cupana (Guarana) Seed Extract, Butylene Glycol, Sodium Hydroxide, Polysorbate 20, Zingiber Officinale (Ginger) Root Extract, Salicylic Acid, Cysteic Acid, Pantetheine Sulfonate, Sodium Ascorbyl Phosphate, Citrus Junos (Yuzu) Peel Extract, Potassium Sorbate, Sodium Benzoate, Citrus Unshiu (Satsuma Orange) Peel Extract, Citrus Aurantium Amara (Bitter Orange) Peel Extract, Sorbic Acid, Citral, Limonene, Linalool, Amyl Cinnamal, Eugenol, Coumarin, Citronellol, Geraniol.