Adequate sleep is crucial to good health, strong immunity, and the well-coordinated work of internal organs. According to a Sleep Foundation study, 50% of expectant mothers often have trouble falling asleep.
It might be hard to find a comfortable position, you may have disturbing dreams and awake at night. But there are many ways to improve the quality of your night's rest. One of the most effective and safe ways is to choose the right pregnancy pillow.
Why is Sleep Important During Pregnancy?
All pregnant women are familiar with such problems as fatigue, sleepiness, touchiness, and forgetfulness. Good and proper sleep helps to cope with them. A Healthy Sleep research proved that sleep deprivation negatively affects the well-being of the mother and the fetus.
Why it is important to get enough sleep during pregnancy:
Quality sleep helps the child's formation and growth, and at the same time reduces the risk of abnormalities in their development and appearance;
Sleep helps to recover and activates the synthesis of hormones and new cells;
A good night's rest helps to normalize mental and emotional health;
A constant sleep deficit increases the risk of cardiovascular system diseases by 20%;
Chronic insomnia could also cause problems with the baby's delivery, including insufficient dilatation of the cervix, prolonged attempts, and the need for a Cesarean section.
You need to sleep at least 9 hours every night during your pregnancy and add a 1–1.5-hour nap a day in the last trimester. Don't forget to ventilate the room, use humidifiers, and choose cozy bedding and a comfortable orthopedic pillow. It is also important to fall asleep and wake up at the same time. A Pubmed study helped identify the root causes of the sleep problems faced by pregnant women.
Why is a Pregnancy Body Pillow an Essential Part of Quality Sleep?
Orthopedic pillows are essential for every expectant mother. They support the abdomen and anatomically correct body posture from crown to heels. This special type of maternity pillow will help you find a comfortable position for night and day sleep. A high-quality product reduces the load on your spine and back muscles, preventing the inferior vena cava from being squeezed in late pregnancy stages.
Pregnancy pillows are also used after the baby is born. You can lean on this kind of cushion while breastfeeding, thus freeing your hands and reducing the load on your back muscles. You can make a cozy and safe place for your baby to play and sleep.
How to Choose the Best Pillow?
Pillows for pregnant women differ by shape, filling, cover material, and price. To choose a quality product, you need to consider the following important points. WhattoExpect experts have identified the main criteria to keep in mind when selecting your maternity pillow.
There are various materials used as orthopedic pillow fillers. Expectant mothers need to choose models with hypoallergenic fillers, like expanded polystyrene or holofiber.
Fillers
Advantages
Disadvantages
Holofiber
– No glue used while manufacturing;
– Spring well;
– Do not absorb moisture or odors;
– Durable, easy to care for;
– Free from dangerous microorganisms and parasites.
– builds up static electricity.
Styrofoam
– remember the form;
– immune to microorganisms;
– moisture-resistant material that does not absorb odors;
– light;
– durable, easy to wash, and tumble dry.
– high price
– small balls could rustle when moving.


Fillers comparison
High-quality cushions are made of multi-layered fabric. The first layer is dense to hold the filler and it is usually made of coarse calico or satin. The second layer is the pillowcase. We recommend choosing models with natural fabrics. Flax is good to use because it cools the skin in the heat, and cotton and knitwear are versatile, safe, and durable materials.
Pros and Cons of Pregnancy Pillow Shapes
Pillows for expectant mothers come in various shapes. A list of the pros and cons of the models available on the market will help you choose the right product to get a good night's sleep.
These are the pillows available on the UK market for pregnant women now:
U-shaped. The big horseshoe pillow is one of the most popular models.
Pluses: evenly supports your abdomen and back, giving you a comfortable cocoon feeling. The product wraps around both sides of your body and it does not need to be shifted when you are changing your sleep posture.
Minuses: you need a large bed, you will not be able to sleep embracing your loved one.
G-shaped. This is a new model that is becoming popular.
Pluses: it supports your body well and helps to eliminate muscle tension. It is convenient, as it is easy to put under different parts of your body.
Minuses: some women get in the way of the upper process.
C-shaped or "banana".
Pluses: you can choose a model by height. It's compact, but it helps to support your abdomen and back. Minuses: none.
I-shaped or pillow-roller.
Pluses: compact, will relieve stress from your spine and neck, and get rid of muscle cramps. Low price.
There are no remarkable downsides.
The shape you choose depends on your personal preference. The main criteria for pregnant women are quality, safety, and comfort. If there are serious problems with your spine, it is better to consult a doctor before purchasing an orthopedic product.
Our Picks
Our rating of the best models for pregnant women contains products that vary by shape and price. All of these pillows have certificates that confirm their quality and safety. When compiling the rating, the opinions of gynecologists and women were taken into account.
The ORTOREX Maternity Pillow is a high-quality versatile model with holofiber filling.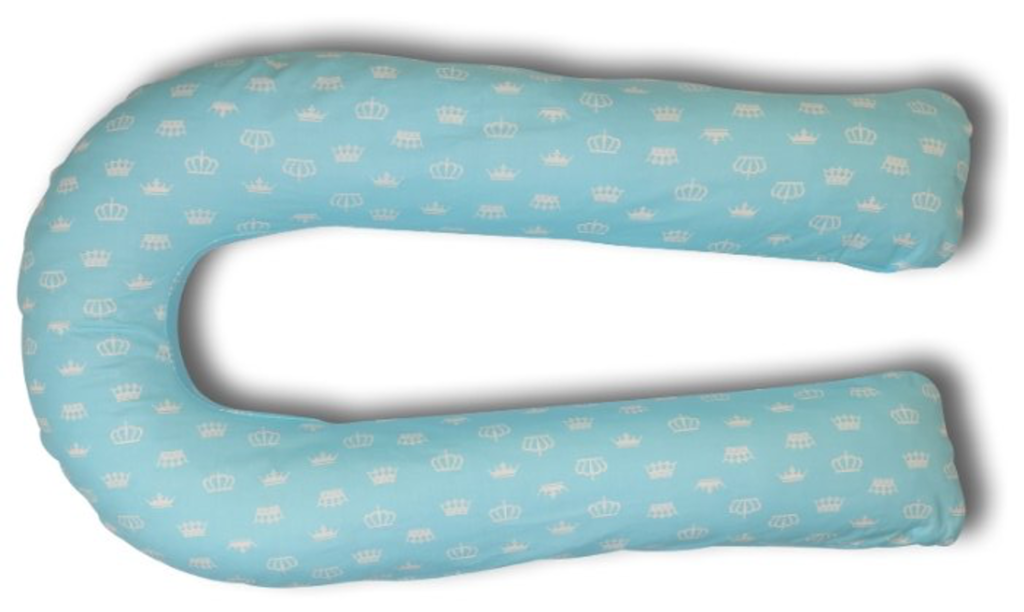 The main advantages are versatility and an increased level of comfort. This pillow will help you get into a comfortable position while relaxing. You don't need to worry about accidentally rolling over your stomach.
Advantages of this model:
✅ Great support of your neck, lower back, entire spine, and abdomen at the same time;
✅ Takes off the load from your spine and relaxes muscles;
✅ Helps to eliminate pain in your lower back, hips, and legs;
✅ Prevents leg edema;
✅ Flexible, folds into several positions. It can be used for relaxation, daytime sleep, while reading, watching TV, or working on a laptop;
✅ Big choice of colors for the pillowcase, which is made of high-quality cotton fabric that does not irritate your skin;
✅ Hypoallergenic filler that doesn't roll. The amount can be adjusted if needed;
✅ Keeps its shape and medium hardness;
✅ Сover and pillowcase are machine-washable;
✅ Perfect quality/price ratio.
After childbirth, the pregnancy pillow can be used while breastfeeding and as a crib guard. The cushion is perfect for anyone who likes to sleep on their side. Doctors recommend using the Full Body Pillow after surgeries, to those who suffer from back pain and elderly people.
Customer Reviews
"I was struggling with hip and lower back pain. This pillow is worth it! It has eliminated my lower back/hip pain and I've only been using it for 4-5 days. This is definitely a must-have for all pregnant women!"
"I'm so happy I decided to get this pillow. I've finally been sleeping decently. It's super versatile, it adapts to any sleeping position. I can't live without this pillow anymore. Highly recommend!"
"After weeks of discomfort and restlessness, I'm finally sleeping through the night. Couldn't be happier with my purchase. It wraps all around my body and I can adjust it in different positions. It holds the shape and is very comfortable. Love it immensely!"
"I'm 3 months pregnant but already starting to have problems sleeping because I'm unable to get comfortable. However, after getting this pillow, I've been MUCH better and had an easier time falling asleep. The pillow hugs my whole body which I really like. Would definitely buy again."
"I have a lot of pressure/cramping in my lower abdomen as my uterus expands. I had the hardest time getting comfortable at night and waking up frequently. This pillow is beyond comfortable. I'm so in love with it, it helps greatly."
The YANZHI Pillow for Pregnant Women is a small butterfly-shaped piece. These are two compact cushions connected together.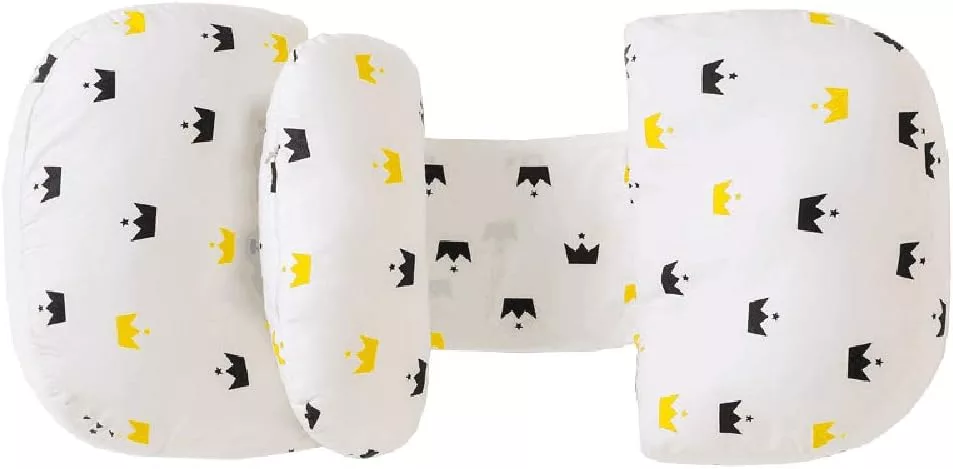 This comfortable and compact pillow ideally supports your lower back and abdomen while sleeping on the side. According to the reviews, this is an inexpensive yet high-quality orthopedic product.
The advantages of this model are:
✅ Low-cost;
✅ Handy to take with you while traveling;
✅ Compact and suitable for beds of any size;
✅ The elastic insert gives sufficient support to your abdomen at any stage of the pregnancy;
✅ Variety of colors to choose from;
✅ High-quality and hypoallergenic materials for the covers and pillowcases;
✅ Pillowcase is machine-washable;
✅ Flexible and resilient, it keeps its shape well;
✅ The filler doesn't roll;
✅ Can be used as a knee pillow to relieve pain and edema in the legs;
✅ After childbirth, it can be used for breastfeeding and as a safe place for the newborn to sleep on.
The product is vacuum-packed, so it can be flat right after unpacking. Just pat the cushion for a few minutes to give it a volumetric shape.
Disadvantages: 
❌ No support for your neck and head;
❌ Might be inconvenient if your belly is very large.
Customer Reviews
"I wanted a pregnancy pillow that didn't take a huge amount of space, decided to give this one a try and I loved it !!! It's comfortable, provided me with support and relieved the ligament pain I had.Also great for postpartum recovery for c-section."
"I tried so many pregnancy pillows before i tried this one. I wish I got it sooner to get more use out of it. It's great for those that need help adjusting to side sleeping but be prepared that the band/material connecting the 2 cushions is short and doesn't stretch well. I got it during 2nd trimester and probably used it for a few weeks before my belly outgrew the pillow."
"This pillow is not very supportive and goes slay very easily. The pattern is cute, but overall a body pillow on each side is better support and since you can place it between your legs which ultimate helps your hips. This doesn't help much of anything."
The Leachco Back 'N Belly Bunchie Pregnancy/Maternity Body Pillow model is an elongated orthopedic product that guarantees a comfortable sleep to pregnant women at any time.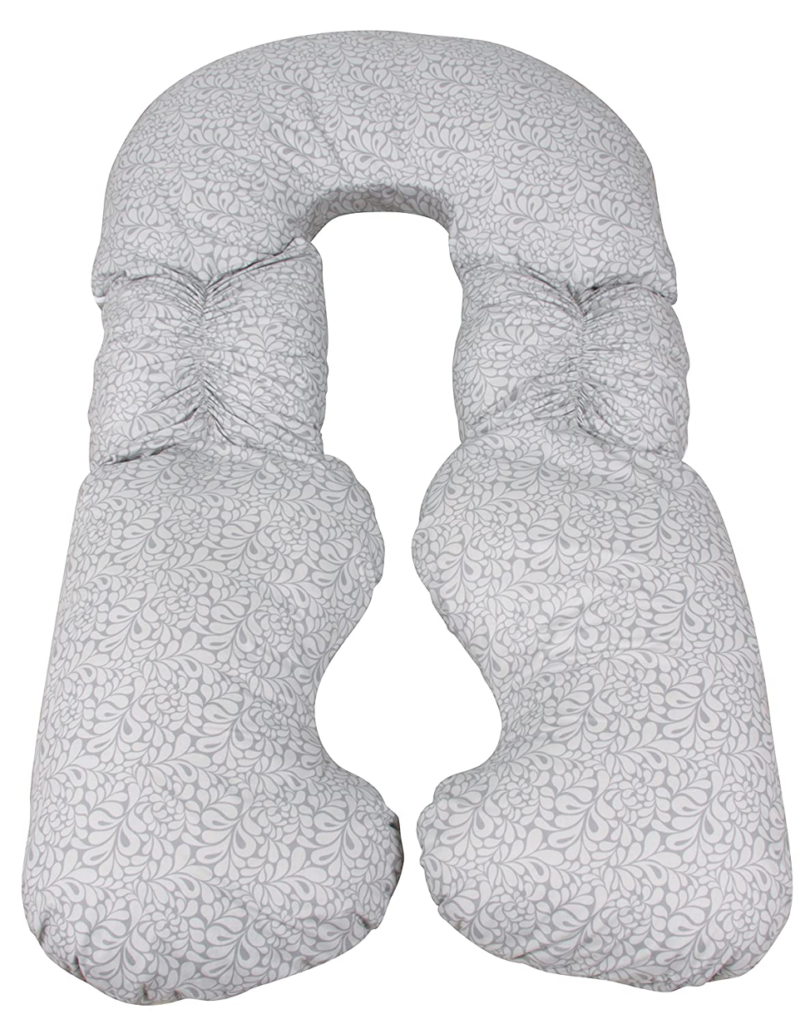 The elongated pillow is a godsend for expectant mothers. The comfortable ergonomic shape allows your entire body to be comfortably positioned from head to heels. There is no discomfort during sleep, which has a positive effect on your physical and psychological condition. The elastic center sections can flex and stretch.
Advantages of this model:
✅ Maximum comfort and relaxation during the night or when taking a nap;
✅ Helps to get rid of lower back and neck pain, headaches, as well as edema, and cramps in the legs;
✅ No muscle cramps or stiffness after sleeping;
✅ Multifunctionality, it can be folded in various shapes to make it comfortable for sitting or lying down;
✅ Elastic, medium hardness;
✅ 100% polyester fiber filling, and pillowcase and cover fabric suitable for allergic mothers-to-be;
✅ No need to move the pillow when switching to the side;
✅ Removable cotton and polyester pillowcase that is machine-washable;
✅ Pillowcases are available in a wide range of colors;
✅ Ergonomic, the product follows the contours of the body.
After childbirth, breastfeeding will be much easier with the Leachco Bunchie Pregnancy Pillow. Hands, shoulders, and back will not get tired when feeding a newborn. This model is often bought by people who have back problems or can't fall asleep.
Disadvantages:
❌ Large size and weight;
❌ Suitable only for large beds;
❌ Difficult to sleep embracing a loved one;
❌ High-cost.
Customer Reviews
"Fabric is not soft and area for head rest is too firm. I had to purchase a softer Jersey knit cover. I should have returned the pillow. Not a great purchase related to the cost. It doesn't store well either. Im trying to force myself to use it in hopes it will soften up."
"My pregnancy hip aches started early in my pregnancy and this pillow relieved the discomfort. I'm 5'4 and needed a pillow long enough to support my legs to prop them up and the pillow did just that. The thickness was perfect because it's not bulky but thick enough and the ridged part was helpful to maneuver the pillow as needed. I am no longer pregnant and still use the pillow. I love it and recommend it for those feeling aches and need leveling."
"This would have been the perfect pillow if the head part wasn't so overstuffed! It gave me a stiff neck the next day and it's very uncomfortable sleeping with your head tilted that far…"
The PharMeDoc Pregnancy Jersey Shaped Pillow is the perfect balance between size and comfort. This pillow with holofiber filler and a microfiber pillowcase will become an indispensable assistant at any stage of pregnancy.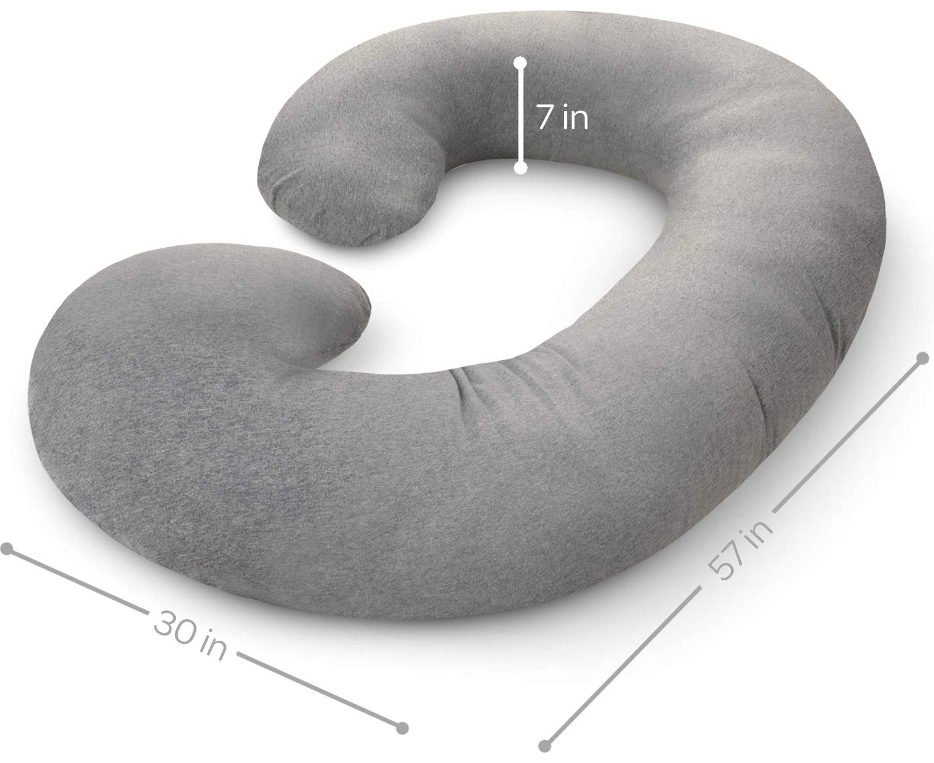 Thanks to its rounded shape, it allows you to get settled comfortably during day and night rest. One rounding supports the head and shoulders. The second one is placed between the legs, which helps to avoid knee pain and swelling of the legs. The long section supports the back or abdomen.
Pluses of this pillow:
✅ Transforms easily and can be used in many cases;
✅ Evenly distributes body weight, relieving lower back pain;
✅ Provides the correct posture on the side, memorizing the shape of your body;
✅ Hypoallergenic;
✅ Folds easily and is handy to take with you while traveling;
✅ Machine washing is allowed;
✅ The filler does not roll, bounces well, and keeps its shape;
✅ Lifetime warranty from the manufacturer.
The pillow can also be used after childbirth – just wrap it around the waist for comfortable breastfeeding. If you connect the ends, you get a safe sleeping or playing place for the baby.
Disadvantages:
❌ High-cost;
❌ Heavy, weighs more than 3 kg.
Customer Reviews
"I love this pillow! it makes sleeping actually possible! I like the "C" shape which makes it more versatile and take up slightly less space. How big it is is a slight issue, but not major. I really like that the cover comes off and can be washed but it is pilling so even after washing looks kind of dingy."
"This product was purchased about 3 months into my pregnancy and did not regret it. It allowed for me to sleep on my side comfortably while still supporting my belly. I even use it after pregnancy as a body pillow."
"I like the shape of the pillow but support is about half compared to a Walmart body pillow. It is a good shape but the image the supplier uses is a little misleading. It definitely doesn't fluff up much more then when you take it out of the package. I could've sewn 2 body pillows together for half the price and had a better experience. I'm hoping that once the baby is born it'll be useful then too, to get my money's worth. Good idea but not worth the money I spent, unfortunately."
TEmkin U-Shaped Maternity Pillow is very popular among expectant mothers. Indispensable at any stage of the pregnancy, it is comfortable and supports all parts of your body. After childbirth, it can be used as a playpen for the newborn or for a safe sleep together with the baby.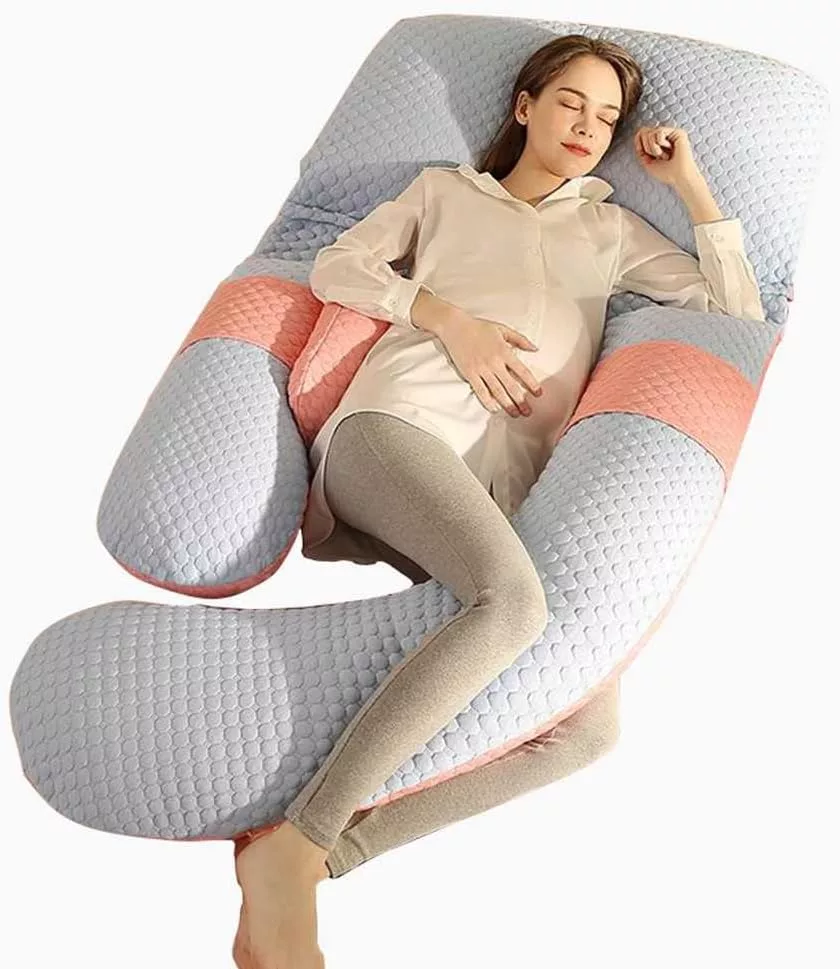 Advantages:
✅ The set includes additional small pillows for back support;
✅ Even support of the abdomen and back, helps to avoid unpleasant sensations in the lower back, neck, and legs;
✅ Does not need to be turned over during sleep, both sides perform their orthopedic functions equally well;
✅ Raises the legs, improves blood circulation, prevents edema;
✅ Gives a feeling of complete security;
✅ Only safe materials are used in filler, covers, and pillowcases;
✅ The filler keeps its shape, the product is quite soft and elastic;
✅ The cover and pillowcase are machine-washable.
This full-body pillow is ideal for anyone who needs extra back support, is recovering from surgery, feels stiff after waking up, or suffers from insomnia.
Disadvantages:
❌ High price;
❌ Large dimensions and heavy.
Customer Reviews
"So glad I bought this pillow. I am currently 21 weeks pregnant. I don't like the bulk of the C or U-shaped pregnancy pillows. I like using my own regular bed pillow for my head. This pillow pairs so well with them, along with my normal body pillow between my knees."
"Good thought but if your pregnant you want support and not squish. This sits up too high for your belly to be comfortable. Used it once then tossed in the closet."
Conclusion
According to women's reviews, the Ortorex Pregnancy Pillow is the best model in terms of price-quality-comfort ratio. The product perfectly matches all the anatomical features of pregnant women. Made from high-quality, durable, and hypoallergenic materials.
You should be happy and excited while waiting for your baby. However, it can be hard to stay in a good mood if you can't get a decent night's sleep. We hope we've managed to help you find your perfect maternity pillow in the United Kingdom.
FAQ
At what point do you start using a pregnancy pillow?
The use of a pregnancy pillow typically commences in the second trimester when your belly begins to show and becomes more noticeable. But, it's okay to start using one whenever you start feeling discomfort or need extra support while sleeping.
Is a C or U shape pillow better for pregnancy?
Both C and U shape pillows have their benefits, it depends on personal preference. C shape pillows provide more structured support and can be ideal for supporting specific areas, whereas U shape pillows offer all-around body support and are generally larger in size.
Do you really need a pregnancy pillow?
The need for a pregnancy pillow entirely depends on your comfort. Pregnancy pillows can provide extra support and help in reducing discomfort such as back and hip pain, and aid in better sleep.
How to use pregnancy pillow?
To use a pregnancy pillow, you generally align it with your body in the position that feels most comfortable. The idea is to help support your hips, neck, shoulders, and back. Big 'U' shaped pillows are often used with the U at the bottom, so it wraps both sides of the body. 'C' shaped pillows are typically used with a curve around the back and the top end under the head.